ISHELL30 Backpack: The Perfect Companion for Any Adventure
When it comes to finding the right backpack, there are many factors to consider, including size, durability, and functionality. The ISHELL30 backpack is a versatile option that offers all of these features and more. With its 30L capacity and a range of compartments, it's perfect for any adventure. Let's take a closer look at what this backpack has to offer.
Design and Capacity
The ISHELL30 backpack has a classic design that is perfect for travel, school, and day-to-day use. Its 30L capacity means you can take whatever you need on your next adventure. The backpack is available in four different colors - cyan, black, dark green, and orange - so you can choose the one that best suits your style.
Compartments
The backpack features multiple compartments that make it easy to organize all your essential items. There are two front zippered pockets, two side mesh pockets, and one inner zipper pocket, as well as a moist proof pocket designed to store wet towels after exercise. The main zippered compartment offers plenty of space for larger items, while compression straps on each side help to fix the items in the side pockets.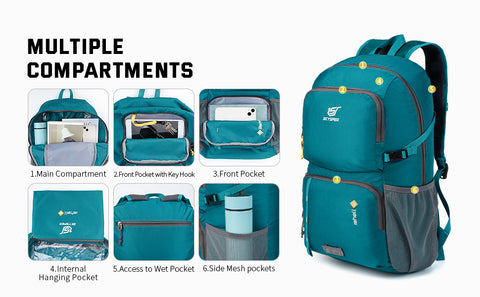 Functionality
One of the standout features of the ISHELL30 backpack is its functionality. The backpack has a daisy chain on the front that allows you to strap other gear to the outside of the bag, making it easy to carry extra items. The thin mesh shoulder strap keeps you cool while you carry your hiking equipment, and the backpack is made of highly tear-resistant and water-resistant 210D nylon fabric to provide strong and durable performance with minimal weight. Premium SBS zippers ensure durability, making this backpack a reliable choice for any adventure.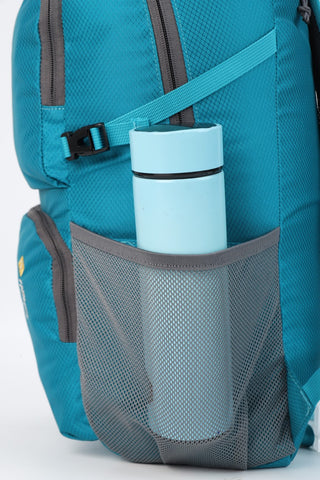 Conclusion
In conclusion, the ISHELL30 backpack is the perfect companion for any adventure. Its classic design, 30L capacity, and range of compartments make it a versatile option for travel, school, and day-to-day use. The backpack's functional features, including compression straps, daisy chain, and thin mesh shoulder strap, make it easy to carry all your essential items. Made of highly tear-resistant and water-resistant 210D nylon fabric, this backpack is built to last. So why wait? Get your ISHELL30 backpack today and start your next adventure with confidence! 
---